Victoria Falls House
VACATION SUITES IN NELSON BC
Victoria Falls House
VACATION SUITES IN NELSON BC
Victoria Falls House
VACATION SUITES IN NELSON BC
About Us
The Best Downtown Vacation Suites In Nelson, BC
Victoria Falls House vacation suites in Nelson, BC are located in the heart of the heritage city. All of our suites are self-contained and provide welcoming accommodations for couples, families, business people, and friends. Our charming vacation suites are a short walk to all of the popular amenities located along Baker Street including eclectic coffee shops, microbreweries, farm-fresh restaurants, and specialty shops. Nelson has something for everyone and is popular amongst adventurers all four seasons of the year.  
Falls Suite
This studio sized vacation suite in Nelson, BC is located on the upper level of the house. It includes one main room with one queen bed, a pull out queen sofa, dining table, and a kitchen.  There is one bathroom in this suite with a tub/shower.   This suite opens onto a  balcony with outdoor dining furniture and a BBQ which can be shaded by a retractable awning in the summer. Comfortably sleeps 2-4 people. Can be joined with Victoria Suite by lock-off door.
Baker Suite
This spacious 1 bedroom vacation suite in Nelson, BC is located on the main level of the house. It includes one bedroom with one queen bed, one bathroom with a shower, and the main room with a kitchen, dining table, sofa, and a set of single bed sized bunk beds.  The french doors off this suite open from the main room onto the verandah where there is outdoor dining furniture and a BBQ. It can be joined with the Verandah Suite by a lock-off door. Comfortably sleeps 4 people. Can be joined with the Verandah Suite by a lock-off door.
Victoria Suite
This spacious 1 bedroom vacation suite in Nelson, BC is located on the upper level of the house. It includes one bedroom with one queen bed, one bathroom with a tub/shower, and the main room with a kitchen, dining table, pull out double sofa, and a set of single bed sized bunk beds.  This main room opens onto a balcony with outdoor dining furniture and a BBQ which can be shaded by a retractable awning in the summer. Comfortably sleeps 4-6 people. Can be joined with Falls Suite by lock-off door.
Verandah Suite
This studio sized vacation suite in Nelson, BC is located on the main level of the house. It includes one main room with one queen bed, a pull out queen sofa, and a dining table.  There is a separate room with a kitchen and a bathroom with a shower.  This suite opens onto the verandah overlooking the garden and there is outdoor dining furniture and a BBQ.  Comfortably sleeps 2-4 people. It can be joined with Baker Suite by the lock-off door.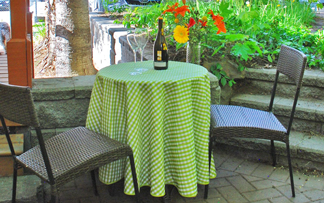 Herridge Lane Suite
This studio sized vacation suite in Nelson, BC is located on the main level of the house and is accessed from the back laneway. It includes one main room with one queen bed, a dining table, 2 armchairs, and a kitchen.  There is one bathroom with a shower in this suite.  Located outside is outdoor dining furniture and a BBQ.  Sleeps 2 people.
The Town
Nelson, BC, Canada is a treasure to behold and is waiting for you to discover it.  Quaint, historic and charming, this mountain town is absolutely stunning all four seasons of the year. Nestled along the shores of the Kootenay Lake and cradled by the beautiful Selkirk Mountains, we promise you will love our bustling culture and unique character. Nelson, BC offers something for everyone!
Gorgeous inside, clean and beautiful outside. Great location. Close to all needed amenities and within close walking distance to stores, restaurants and bars. Unit came stocked with pasta and sauce, just in case I forgot. Lovely touches like Halloween candies and a personalized door welcome. Will definitely stay again.
This was the ideal location and accommodation for us, exceeding our expectations! Terrific hosts, great kitchen and fridge, stocked with pans, dishes and all utensils necessary for meal prep and eating. We hope to return!
Great place for a ski vacation. Walking distance to Baker and all of Nelson's character spots. A quick drive up to Whitewater Ski Resort.
location is great, just off the main road in Nelson, easy walking distance to everything. Lots of great restaurants around. There is a wonderfully stocked kitchenette and the whole place was decorated beautifully. Evident that the owners have put a lot of care and love into this house, I would recommend to anyone and am definitely planning on returning here.
What you Get
Amenities & Services
Restaurants
Nelson has a plethora of fabulous culinary delights!  Wandering down Baker and Victoria Streets as well as the laneway between the 2 streets (known as "Herridge Lane") will tempt you with so many options you will have trouble deciding!  Some of our personal favorites include:
LOKA Middle Eastern-Mediterranean Bistro: (Baker Street) fabulous and fresh food and a gin bar to boot!!
Cantina Del Centro: (Baker Street) Delicious Mexican food and the best-tasting margaritas north of the Mexican border for sure!
Tamil Kitchen: (Baker Street) Authentic South Indian food …if you haven't tried this, you are in for a treat!  Awesome lunch buffet.
The All Seasons:  (Herridge Lane) Intimate fine dining in a great old heritage house…best BC wine list in town!  Great enclosed outdoor dining area!
Coffee
Ahhhh….my personal favorite!
We boast 2 roasteries and a multitude of cafes.  I'll highlight the roasteries and let you discover the various cafes….
No. 6 Coffee Co.:  (Front Street) A boutique coffee roasting company that uses beans sourced directly from small farms, co-ops, and respectable trading partners, paying above and beyond Fair Trade minimums.  This coffee is perfectly roasted to feature the unique and distinct qualities of each bean varietal.  With a weekly rotating coffee menu, you can enjoy a perfect cappuccino or sample a flight of roasts. This roastery and the knowledgable staff are a must if you love good coffee.  Open Tuesday through Saturday.
Oso Negro: The original coffee roastery in Nelson located on Victoria Street.  Definitely a hot spot to people watch!  Signature dark and bold coffee with a great outdoor seating garden to enjoy your coffee and the locally produced treats! Open daily.
Craft Breweries
Get your walking shoes on and do a tour of our local breweries!
Backroads Brewing Co:  (Baker Street) Awesome brews with a prime location right on Baker Street. Inside and outside seating. Great homemade pretzels!
Nelson Brewing Company:  (Latimer Street…uphill about 6 blocks from downtown…still walkable…maybe start with this on your brewery tour!) Located in Nelson's 125 year old brewery building, this is our certified organic brewery with a quaint tasting room and creative and delicious beers! (tasting room has limited hours so check before you go)
Torchlight Brewing Co: (Hall street) Located near the waterfront downhill from downtown this craft brewery host a large selection of brews and is the only brewery in Nelson boasting a kitchen/meals. Join them for events such as karaoke!
Bars & Lounges
No need to get into your car after having alcohol when staying at our place as you can walk everywhere!
The Royal on Baker: (Baker Street)  Awesome spot 1 block away which often features live music.
Finley's Bar & Grill: (Vernon Street) Lively, family-run pub offering hearty fare, beer, regular event nights & a patio with lake views
Uptown Sport's Bar: (Vernon Street) Located in the Adventure Hotel, this bar is the place to catch the game and enjoy a pint of local craft beer.
Bloom Nightclub: Brought to you by the creators of the Shambhala Music Festival, this bar features dj's from far and near.
Spirit Bar : (Vernon Street) Located in the basement of the Hume hotel this venue features live music and dj's
Mike's Place Pub: (Vernon Street) A classic pub located in the Hume Hotel ….Nelson's version of "Cheers"!  Great pub food and lots of beers on tap.  Foosball, pool, darts, and "bad ass bingo nights" on Tuesdays throughout the winter ski season!
Shows & Entertainment
Nelson is one happening small town!  There is often more going on than one can comfortably take in during any given month!
From our cooperatively run movie theatre and our historic live stage theatre to our various street and park festivals and markets, you will be entertained by experienced and talented locals.
When it comes to big-name musical acts, more come to Nelson than any other town of this size!  With a myriad of venues to choose from you can see live music or DJ sets every weekend of the year.
Are you entertained by meandering through farmer's markets?  I sure am!!!  Nelson and the surrounding towns have a lovely assortment of markets that take place all summer long.
Arts & Culture
Many people are drawn to Nelson for the "vibe" that thrives throughout the region.  We have been named the best small arts town in Canada as well as one of the top 10 best ski towns in North America for good reason!  The shops and buildings reflect the values and talent of the residents.  We invite you to explore the historic downtown core with it's shops and galleries and wander through the residential streets to view beautifully restored homes with fabulous gardens!
 A couple of the "do not miss" attractions which showcase local creativity include:
Nelson ArtWalk: This is an annual exhibition of our visual artists which are displayed all throughout local businesses such as stores, galleries, cafes & restaurants.
Touchstones Museum of Art & History: This museum and gallery is in an iconic Nelson heritage building which was historically home to our post office and city hall and now houses 3 floors of temporary and archival exhibitions.
Outdoor & Adventure
The Kootenay's are an outdoor recreational paradise!
In the warmer months you can explore the Kootenay Lake on foot by hiking or walking one of the fabulous trails (Pilot Point Trail is a great lakeside one!), by boat (see Captain Eric at "The Captains Boat Shop" or go to "Nelson Paddleboard and Kayak Rentals"), or jump right in at one of our many fabulous beaches.
Hiking:  The amount of incredible and accessible hiking trails will exhaust even the most avid mountaineer visiting Nelson.  
Biking: The mountain bike trails in the Nelson area are the stuff dreams are made of! There is everything from gentle railway grades, to hard core DH for the adrenalin junkies, to technical blast runs with tons of freestyle stunts to keep you wired until the brewpub! Explore some self guided trails or join a group …. but just do it!
Golf:  Experience the Kootenay's mountain golfing adventures right in town at Granite Pointe Golf Club.  This course boasts spectacular views of  Nelson, Kootenay Lake and the famous Kokanee Glacier and you can relax after your game at The Grill at Granite for great food and bevvies.  
Drive 30 minutes north to the Balfour Golf Course where you will have an unforgettable experience at one of nature's most scenic golf courses with 18 holes guaranteed to challenge any skill level. 
In the winter we boast some of the best powder you will ever find!
Downhill Skiing: Ride the fluff at Whitewater Ski Resort where you will be hard-pressed to wait in a lift line longer than 10 minutes which will bring you up to a multitude of groomed runs, powder runs, treed runs, and slack country bliss.
Ski Touring:  Explore the backcountry by ski touring just 15 minutes from town in the Hummingbird Pass or delve into the bottomless powder at Stagleap Provincial Park up the Kootenay Pass which is the highest elevation highway accessed pass in BC….therefore the earliest and latest snow to be found!
Xcountry skiing:
Apex ski area lets you enjoy 30+ kms of groomed trails including warming huts and classic/skate groomed trails.
Paulson Ski area boasts 45 kilometers of interconnected classic track trails including the Viking Centre at the entrance to the ski area and 4 warming huts placed strategically along the trail system.  Go for a 1 hour to a full day adventure in this scenic outdoor playground!
Snowshoe: Make your own tracks by strapping on a pair of snowshoes and heading out in any direction from town!
Day Trips
As if there isn't enough to do in the immediate Nelson area, we also have tons of ideas for you to get out of dodge for the day!
Check out:
Ainsworth Hot Springs:  Just 40 minutes north of Nelson these healing waters have been welcoming guests since the 1930's.  These are the only hotsprings offering a horseshoe cave filled with healing hot water flowing from the earth for you to steam and soak in…truly an experience not to miss! The Lower Kootenay Band of the Ktunaxa people bring a unique First Nation brand to the hospitality industry. After you soak, be sure to enjoy some of the fresh, local, indigenous inspired food at the Ktunaxa Grill overlooking the pools.
Fletcher Falls:  North of Ainsworth en route to Kaslo you can stop and walk down to the waterfront and over to the waterfalls.  Just a 15 minute walk down to the lake and a 5 minute walk in to the falls.  A great place for a picnic or hike in camping!
Kaslo:  Nestled in the mountains 1.5 hours north of Nelson this is a little town with a lot of charm.  Steeped in history, you can tour the Moyie sternwheeler and get transported back to an era when the lake was the only highway bringing people into this rugged landscape.  Come in midsummer for the famous "Kaslo Jazz etc festival". Picture performers on a floating stage with spectators dancing on the beach with mountains rising over 10,000 feet from the lake as the backdrop…what's not to like?!  The restaurants are delicious and the Angry Hen brewbub is awesome….well worth the trip!
TheArtisans of Crawford Bay:  Take the Kootenay Lake Ferry (longest free scenic ferry crossing in the world! 35 minutes) from Balfour (40 minutes north of Nelson) to Kootenay Bay and drive 7 km to Crawford Bay. Walk from one unique studio to another and watch the artisans at work. Step into a variety of structures made from logs to strawbales where you can ask questions and purchase crafts directly from the makers.  Pottery, textiles, forged iron accessories, blown glass, and traditional handmade brooms (that were used in the Harry Potter series) are just some of the items you'll find!
Sandon and Idaho Peak:  Visit a bonafide ghost town!  Back in the day (beginning in 1891) Sandon was the centre of what was the richest silver-lead producing region in Canada. What was once a booming town of 5000 people is now occupied by little more than a caretaker.  Still, it boasts a cool little shop in the summer months, a hydro electric power plant (that sells power to the government!), a summer music festival (Valley of the Ghosts Music Festival), as well as a 2 km gentle hike to a look out with breathtaking 360 views of the surrounding area. Take this hike from mid July to mid August for the most incredible display of wild flowers you'll ever see!
New Denver:  This picturesque mountain town is nestled in the Selkirk Mountains on the eastern shores of the Slocan Lake.  It has been the setting for several movies including "A simple Curve" and "Snow Falling on Cedars" and you'll see why as you wander through the scenic streets and the lapping lakeshore with awe-inspiring views.  Visit the The Nikkei Internment Memorial Centre with it's important history and unique Japanese Heiwa Teien Peace Garden.
The Slocan Valley:  Drive south of New Denver through the pastoral landscape of the Slocan Valley.  Home to organic farms, quaint family bakeries, earthy cafes, and quirky shops, this valley boasts a rich mix of draft dodger and Doukhobor history and still attracts and houses people of  the same ilk. A blast from a colourful past!  The Frog Peak Cafe at the south end of the valley is a local gem that is not to be missed!  Open until 4 pm, locals beat a path to it's door for fabulous breakfast and lunch.